6″ X 2″ Total Locking Swivel Caster W/Polyurethane on Steel Wheel
Specifications
| Weight (LB) | Capacity (LB) | Overall Height (inches) | Package (PC) | Wheel Diameter |
| --- | --- | --- | --- | --- |
| 9.5 | 1200 | 7.5 | 250 | 6 |
Product Description
APPLICATIONS:
Polyurethane tread with 90+ shore (A) durometer rating. Chemically bonded to heavy cast iron core. Non-marking floor protection. Resistant to oil, grease, water and most solvents.
SPECIFICATIONS:
Swivel: Two rows of ball bearings in hardened raceways.
Fork: 1/4″ formed steel plate, double welded.
King Pin: 3/4″ heat treated bolt and nut.
Lubrication: Zerk in swivel raceway, wheel hub or lube axle.
Axle: 1/2″ Diameter bolt and nut.
Finish: Zinc Plated.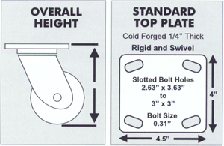 The total lock brake provides a superior locking application that locks the wheel and swivel simultaneously and makes sure the wheel and the caster raceway are totally immobile, while the brake is engaged. The steel pedal provides virtually maintenance free operation. The brake is easily operated with foot action.