3″ x 1.25″ Swivel Caster with Steel Wheel & Brake
Specifications
| Weight (LB) | Capacity (LB) | Overall Height (inches) | Package (PC) | Tread Width |
| --- | --- | --- | --- | --- |
| 3 | 275 | 4" | 1200 | 1.25 |
Product Description
Applications
Excellent for high capacity. Sustains sharp impacts while under full load. Useful for dollies, parts bins, portable storage racks, lighter general duty use and rolling tool boxes.
Specifications
Swivel: Two rows of ball bearings in hardened raceways.
Fork: 1/8″ formed steel plate.
Axle: 1/4″ diameter bolt and nut for small plate.
Finish: Chrome or Zinc Plated.
This caster comes with a side pedal brake on the wheel.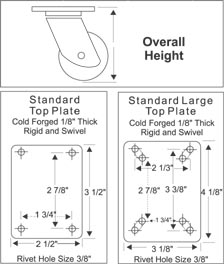 500 in stock